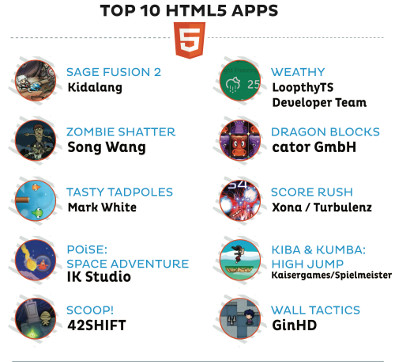 HTML5 apps
Dragon Blocks - cator GmbH
Dragon Blocks game is highly addictive. You will not be able to put this game down :-) Hours of fun! It will help to train your problem solving skills. This logic game is all about moving dragons. You have to put in line three or more dragons and they will disappear. You have to make them all disappear in limited number of moves! WARNING: The game is hard to master!
Kiba & Kumba: High Jump - Kaisergames/Spielmeister
The mascots of KaiserGames, Kiba and Kumba, compete in a new vertical endless jump game. Jump as Kiba or Kumba through varied designed worlds. Withstand the jungle, jump the desert, conquer the cave or master the ice world. In this stunning skill game there is only one direction: Upwards!
POiSE: Space Adventure - IK Studio
POiSE is an amazing arcade game that tells about the adventures of a funny alien named Spike! Spike's ship was wrecked among the asteroid belt. He'll have to struggle out of scope of the asteroid belt by the use of a special rescue capsule to reach the ship that come to the rescue. Each level is one of the asteroids, where Spike needs to balance a certain amount of time, waiting opportunity for jumping to the next level.
Sage Fusion 2 - Kidalang
Sage Fusion 2 is a hybrid between a Role-Playing Game (RPG), adventure, and visual novel. Set in a futuristic universe in which artificial intelligence is considered religious taboo, this story-driven game tells the adventure of a businessman and his bodyguard who descent to an underground world, trying to get back their reportedly stolen spaceship after it fell and crashed in the middle of the city - an accident behind which lies a conspiracy that involves the galactic government, the military, the church, and centuries-old historical legend.
SCOOP! - 42SHIFT
SCOOP! is a personalized live magazine which brings the latest updates from your favorite popular websites and blogs. It collects the latest articles from your handpicked feeds and renders beautiful slides with photos optimized for your smartphones and tablets. Moreover, SCOOP's category feeds do not let you miss the hottest issues in your favorite areas.
Score Rush - Xona / Turbulenz
Score Rush is a mind melting, super fast-paced shoot em' up with so many bullets to dodge you'll wish you had an extra finger. Featuring overwhelming firepower, trailing options, devastating special abilities, tons of enemies, and hundreds of crazy bullet patterns to survive. Score Rush is a shmup that'll push your device to melting point.
Tasty Tadpoles - Mark White
Tasty Tadpoles is a casual arcade/puzzle game that puts you in charge of guiding a series of little tadpoles to safety across 75 deliciously challenging levels. Just dip your finger in to twist, turn and tap your tenacious tadpole through three puzzling ponds of peril!
Wall Tactics - GinHD
You are in a matrix! You must collect the all treasures to be able to leave matrix, in this matrix there are so many mummies and skulls, you should avoid them. You may open or close the gates to stop them. This is an interesting strategy game.
Weathy - LoopthyTS Developer Team
In a beautiful, simple and efficient way this application provides access to weather information all around the world. These are some of Weathy's cool features: Map Coordinates, 36 Hours Forecast, 10 Day/Night Forecast, Preferred locations management, App Theming. Tap! Swipe! Drag! Pinch! You may use a bunch of really cool gestures to move along the app. Swipe horizontally for Locations and Preferences. Swipe vertically for Daily Forecast and Update. Pinch main screen for Hourly Forecast.
Zombie Shatter - Song Wang
Endless zombies are coming! Zombie Shatter is a exciting shooting game. Tap the screen to battle against Zombies and Monsters in the cemetery. Take every equipment and fight for survival!