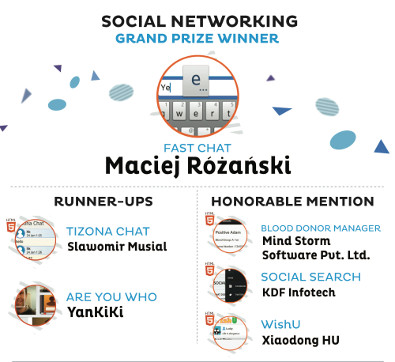 Grand Prize
Fast Chat - Maciej Różański
Chat with your Tizen device on Facebook, the most frequently used social community in the world. You have all your friends at your fingertips with easy to use and nice looking application. Once you have it, you will love it!
Runner Up
Are You Who - YanKiKi
Use facial recognition to find the corresponding contacts information on your phone. Figure out who looks most like you, and with others of Facial features similarity degree. Quick and accurate detecting, tracking faces from still images or video stream. Easy to view and edit contacts information.
Tizona Chat - Slawomir Musial
Make new friends and chat instantly, without need to log in. Just enter your nickname and start chatting with people all around the world. You can express yourself using colorful emoji emoticons and talk in a multiple chat rooms including native language rooms for Korean, Japanese, Russian and French users.
Honorable Mention
Blood Donor Manager - Mind Storm Software Pvt. Ltd.
Blood Donor Manager helps you manage a list of Blood Donors in your application. It lets you manage a list of Blood Donors and search for Donors by Blood Group Type. You can contact any of your Donor contacts via Phone Call, SMS or Email.
Social Search - KDF Infotech
Social Search is a complete solution for finding out what is currently happening on all your social networks. Use the search box to find relevant content. Create your own social timeline and stay in touch with what your friends are doing at the moment.
WishU - Xiaodong HU
Anonymous mood sharing social app. User could set a photo on his/her homepage to express his/her current feeling, visitors could give him/she some emotions to show their sympathy. There are random list and top 10 list of available users, users that interesting you could be bookmarked so you could keep watching their activities.