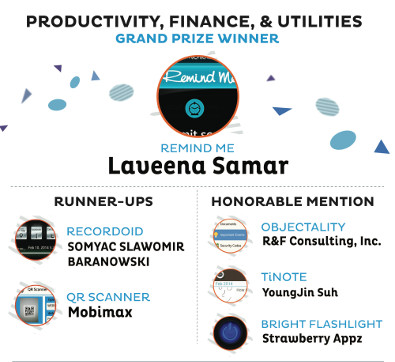 Grand Prize
Remind Me - Laveena Samar
Make life easier. A few taps and you will never again forget thanks to this reminder app with a difference! You can easily customise it to set personal reminders or even for your appointments, bills, pills and renewals.
Runner Up
QR Scanner - Mobimax
The most intuitive, simple to use, very fast QR Scanner optimized for Tizen system. Built-in flashlight. Just a handy tool in any situation - both day and night.
Recordoid - Somyac Slawomir Baranowski
Recordoid is retro dictaphone transferred to the digital world, extended by social and geolocation features. Application allows to create audio notes marked by GPS coordinates and share them via Facebook, Twitter or e-mail client. With Recordoid you can easily document your journeys or daily life events.
Honorable Mention
Bright Flashlight - Strawberry Appz
Bright Flashlight is great app helpful in many life situation. It can light up every dark room you enter.Moreover the app can save you when you are in trouble by sending SOS signal. You can also block the whole screen from accidental click or touch and you can set to auto light on at startup. Enjoy the clear view with Bright Flashlight!
Objectality - R&F Consulting, Inc.
Objectality is a non-technical, object-oriented database and personal information organizer. Design reusable data types representing information you need to keep track of. Organize your data into a tree-like structure of containers. Collect data effortlessly and avoid repetitive data entry. Utilize your knowledge base with custom reports. Keep track of anything. Especially time and money.
TiNote - YoungJin Suh
TiNote shows a brief history of your life. It is divided into four parts: calendar, memo, calendar, and albums, and provides touch-based memo, voice memo, schedule management and the information of today's weather and temperature, sunrise and sunset time and the phase of the Moon. With TiNote, You can record the day with photo & image memo, voice memo and schedule and capture every experience of your life.