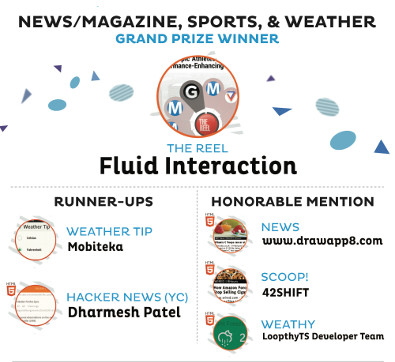 Grand Prize
The Reel - Fluid Interaction
The Reel is a revolution in news, bringing you the current news in a super-visual, playful but efficient form designed for your Tizen device. The Reel is based on a patented UI concept, and makes reading the news a breeze, highlighting news items based on traction from other readers, and gives you the power of highlighting your favorites.
Runner Up
Hacker News (YC) - Dharmesh Patel
Read Hacker News (YCombinator) articles and comments with this clean, simple, modern looking and fast performing universal app. Articles are presented in a readable mode using readability. App features threaded comments, dark theme, and share articles & comments using native share.
Weather Tip - Mobiteka
Keep up to date with the weather conditions! Weather Tip allows you to check quickly current weather conditions in intuitive and simply way. It just shows weather icon on notifications bar area, thus it is always visible.
Honorable Mention
This is a news reader. It brings you content from yahoo news RSS, and presents them to you with a clean user interface. Enjoy reading!
SCOOP! - 42SHIFT
SCOOP! is a personalized live magazine which brings the latest updates from your favorite popular websites and blogs. It collects the latest articles from your handpicked feeds and renders beautiful slides with photos optimized for your smartphones and tablets. Moreover, SCOOP's category feeds do not let you miss the hottest issues in your favorite areas.
Weathy - LoopthyTS Developer Team
In a beautiful, simple and efficient way this application provides access to the weather information all around the world. These are some of Weathy's cool features: Map coordinates, 36 hours forecast, 10 Day/Night Forecast, preferred locations management, app theming. Tap! Swipe! Drag! Pinch! You may use a bunch of really cool gestures to move along the app. Swipe horizontally for locations and preferences, swipe vertically for daily forecast and update, pinch main screen for hourly forecast.