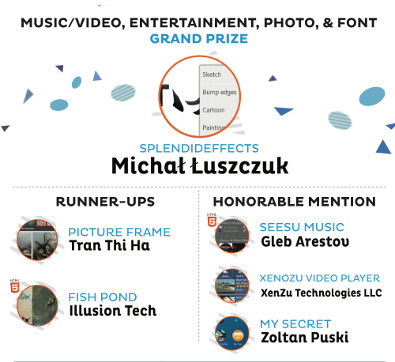 Grand Prize
SplendidEffects - Michał Łuszczuk
SplendidEffects - the most advanced Tizen photo editor with over 30 photo filters. Changing basic photos into splendid photos has never been so easy!
Fish Pond - Illusion Tech
Title
Fish Pond, as a fish feeding game, tries to bring immersive experiences of interacting with realistic pond water and vivid colorful fish. It is the first HTML5 mobile app that implemented a high-qualified water simulation algorithm with the realness and smoothness being taken to a whole new level. It will keep evolving and never stop trying to bring you new suprises!
Picture Frame - Tran Thi Ha
Picture Frame helps you combine multiple photos into amazing looking frames and share them with your friends and family. With friendly interface and easy functions. You can make your photos look good in just two minutes.
Honorable Mention
My Secret - Zoltan Puski
Do you have private photos on your phone? Hide your private/personal images from the public Gallery, and they are visible only after entering your secret passcode. No more worries, a strong encrypted database is protecting you!
Seesu Music - Gleb Arestov
HTML5 mashup application which combines data from various services to let you enjoy music and meet new people. Powered by last.fm technologies.
XENOZU Video Player - XenZu Technologies LLC
Enjoy your favorite YouTube videos on Tizen! With XENOZU FREE player for YouTube you can stay in touch with your favourite videos while on the go! Videos are categorized by Popular, Films, Music, etc., plus you can search for the videos of your choice, you can also bookmark a video, view the history of the videos you've watched and get additional video details, you can also sign into your YouTube account, enjoy!