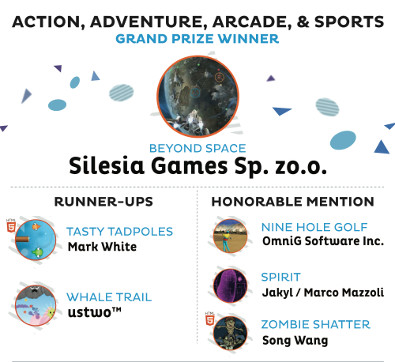 Grand Prize
Beyond Space - Silesia Games Sp. z o.o.
Beyond Space is a cutting edge 3D space shooter game which dives the player into rich and thrilling story, full of awesome characters and exotic locations scattered across space and time in a epic space opera. Take the control of fighters, space gunboats, raiders and jump into a battleship's space cannons! Game provide breathtaking visual experience with fully detailed 3D graphics, spectacular special effects, rendered glows, lights, sun flares and reflections. Everything intensified with ambient dynamic soundtrack and great sound effects.
Runner Up
Tasty Tadpoles - Mark White
Tasty Tadpoles is a casual arcade/puzzle game that puts you in charge of guiding a series of little tadpoles to safety across 75 deliciously challenging levels. Just dip your finger in to twist, turn and tap your tenacious tadpole through three puzzling ponds of peril!
Whale Trail - ustwo™
Fly Willow the Whale through the magical skies of Rainbow Land! Collect Blubbles, loop the loop, smash grumpy Thunder Bros and meet friends along the way. Choose how you want to play: sit back and explore endless Classic Mode or unlock stars in bite-size Challenge Levels.
Honorable Mention
Nine Hole Golf - OmniG Software Inc.
Nine Hole Golf is a 3D mobile golf game featuring enjoyable game play and realistic golf simulation. You can choose from four animated golfers, three golf courses with distinct landscape and climate, play for a total of 27 holes, and enjoy the full swing of fun!
Spirit - Jakyl / Marco Mazzoli
Take control of Spirit in an intense retro inspired arcade experience, reinvented for smartphones. Guide Spirit against many different enemy types, and distort space to force them into another dimension. Features a fluid, easy to play yet hard to master control.
Zombie Shatter - Song Wang
Endless zombies are coming! Zombie Shatter is a exciting shooting game. Tap the screen to battle against Zombies and Monsters in the cemetery. Take every equipment and fight for survival!